Home | Finish Carpenter
Do you hate to install Crown Moulding? Call Bob!
Finish Carpentry
Bob Van Dyke is experienced at general contracting projects as well as being sub-contracted to larger general contractors on Long Island. Bob is Licensed and Insured in Suffolk County. He can provide general contractors with a level of quality and efficiency that they expect for their clients.
Why use Bob Van Dyke for your Finish Carpentry Projects?
I build relationships with my clients and contractors so they can feel confident their job is handled professionally and flawlessly.
I understand the complete picture on projects relating to how the trades rely on and interact with each other. I understand the value of respecting all scopes of work to allow the job to run more efficiently.
I can complete a variety of finish carpentry projects on your job site. I handle all aspects of carpentry, which can save the client money dealing with one contractor for your entire carpentry scope.
If desired, I can provide all materials, labor, and equipment for Finish Carpentry services.
I have been a subcontractor for various trade and specialty contractors in all types of projects from new construction to historic restoration.
I will maintain accurate records, monitoring schedule and cash flow.
I have experience in ensuring a safe and secure project site.
Finish Carpenter services include:
Installation of doors, frames and hardware.
Installation of bathroom accessories.
Furnish and installation of standing and running wood trim.
Wood paneling.
Prefabricated casework installation.
Custom cabinets and countertops.
Custom built-in millwork units.
Shop finishing of trim / millwork.
You can expect timely and competitive bid proposals, attention to detail and competent and professional project management.
Over the past years, Bob has built a reputation for excellent quality and timely performance, and a philosophy that service to customers is the first priority.
Call to discuss your upcoming project: 631-859-0405
---
About Van Dyke Home Improvements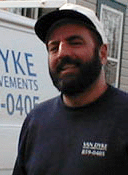 Bob Van Dyke, the owner of Van Dyke Home Improvements has been a finish carpenter and home improvement contractor in Suffolk County, Long Island, NY for over 30 Years.
Bob's dedication and meticulous work practices, combined with state-of-the-art tools and technology, has earned him a reputation for quality craftsmanship and excellent service.
We only use top quality materials from major manufacturers. We are insured and licensed – Suffolk County Home Improvement License #18,852.
Please feel free to contact any of the individuals listed to confirm our credibility, budget and scheduling accuracies, workmanship, quality of materials and any other questions that you may have about Van Dyke Home Improvements.
---
Our Business Practices
Whenever we enter a client's home, we respect your environment as well as your safety and privacy. We take every measure possible to confine our working mess to the job area, and have the highest standards regarding professional conduct, appearance and workmanship on the job site.
---
References
We invite you to check us out thoroughly. View our testimonials from previous customers. Upon request, we will provide you with names and phone numbers of other homeowners who have completed projects similar to the one you are currently considering.