Home | Home Improvement Tips | Repairing Sun Damaged Flooring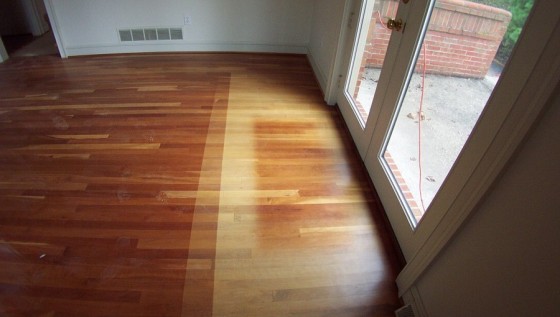 Everyone loves hardwood flooring, it has a nice look- and completes any room. However, exposure to sunlight from a window or door can speed up the oxidation and the aging of your hardwood flooring, and take away the original beauty. Before ripping up the entire floor, look to see if the damage is confined to just a board or two. Removing the finish and looking at the bare wood will help determine how bad the damage truly is.
If you have:
Slight Sun Damage- Prepare the floor for sanding, nail down any lost boards or nails that are sticking out. Now you can fill in any gaps between boards with a wood filler. Remove the finish from the hardwood flooring with a sander or varnish remover. Sand down the floor several times until the wood is smooth. Start with a medium grade sandpaper, then use a finer grain with each following sanding. Vacuum the floor and stain and refinish!
Severe Sun Damage- Carefully remove any boards that need to be replaced. To do this drill holes along the damaged section of the board, if only part of it needs to be replaced. Split the damaged section with a hammer and wood chisel. Pry out the damaged piece, and replace with another piece of wood that matches the board. Tap the board into place and secure with nails. Now you can stain and refinish.
Seek help at a local home improvement store to match the color of the stain on your existing floor. Always sand in the direction of the wood's grain.
Thank you to eHow for the original information.
_____________________________________
To learn more about Van Dyke Home Improvements' services, business practices and references, click on About Us. You can read customer reviews on our Testmonials page. Be sure to look at our Carpentry Photos and Remodeling Photos that feature many "before and after" photos of our recent projects.
Contact Us
For more information, or to request a quote or discuss a project you are considering, please call 631-859-0405, or email [email protected].