Home | Home Improvement Tips | Eco-Friendly Spring Cleaning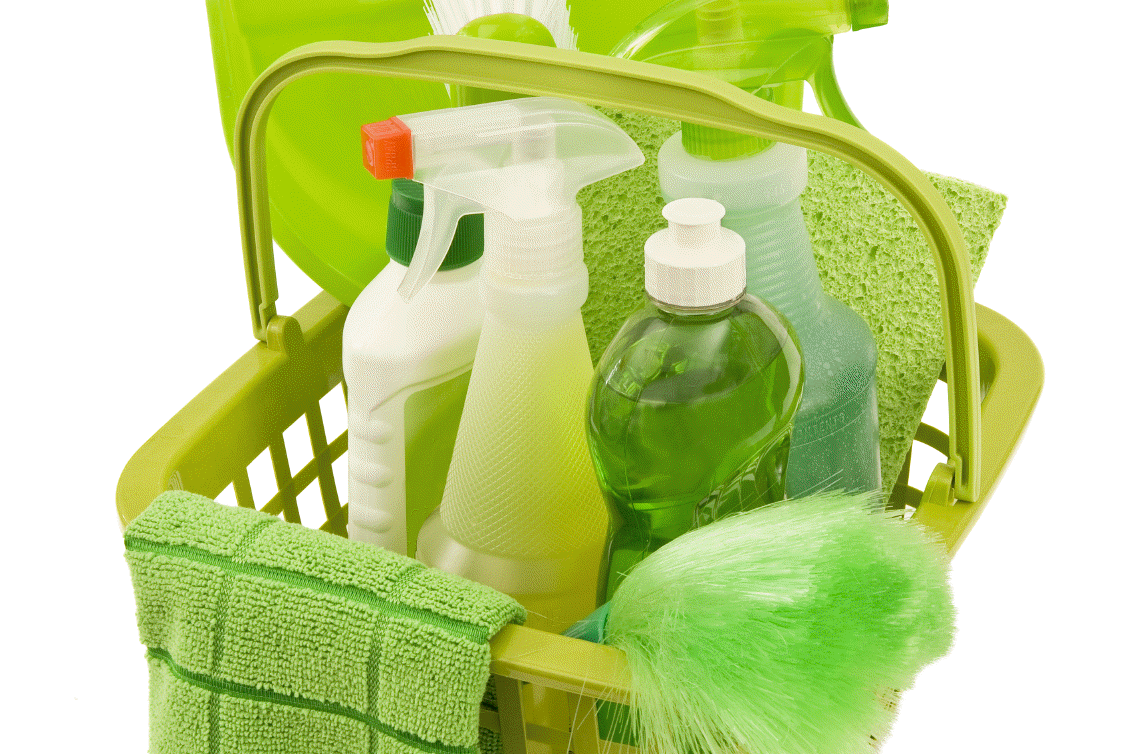 Its time to open up all the windows, shake out the cobwebs and start that spring cleaning! You may want to consider some eco-friendly spring cleaning tips this year. Many chemicals found in conventional cleaning products can be more dangerous then the dirt on your floor. The common cleaning method (including lots of paper towels) is not the most eco-friendly way to clean. Thankfully there are eco-friendly spring cleaning alternatives that can help your home become squeaky clean and green. While there are brands out there that identify as green and organic (such as seventh generation or method) that work really well, they cost a pretty penny. Open your cupboard and you may be surprised to find some simple items you already have that you can use to clean that work just as well as store-bought cleaners.
Here are some eco-friendly spring cleaning recipes for green-cleaners:
Glass Cleaner: Mix 1/4c vinegar and 1 quart of water in a spray bottle. Spray on glass and wipe clean with old newspaper or a lint free cloth.
Counter top and bathroom tile cleaner: Mix 2 parts vinegar with 1 part baking soda and 4 parts water. Apply with a sponge, scour and wipe away.
Flooring cleaner: Mix 4c of white distilled vinegar with about 1 gallon of hot water. For a pleasant scent, add a few drops of peppermint or lemon oil. After damp mopping the floors, the smell of vinegar will dissipate, leaving the smell of the oil.
Wood furniture polish: Mix equal parts of lemon juice and olive oil. Apply a small amount to a cloth and rub not the furniture in long, even strokes.
Toilet cleaner: Sprinkle a toilet brush with baking soda and scrub! You can occasionally disinfect your toilet by scrubbing with borax instead. Wipe the outside of the toilet with straight vinegar.
Disinfectant: Mix 2tsp borax, 4Tbsp vinegar, 3c hot water and 1/4tsp liquid castile soap. Wipe on with a damp cloth or use a spray bottle, wipe clean.
Air refresher: Sprinkle essential oil on a cotton ball, and hide it in a corner of the room. If you have kids, make sure it is out of their reach as essential oils are very strong and could irritate the

skin

. Lavender is a relaxing scent that is great for bedrooms, and cinnamon, clove, and citrus oils are great for the rest of the house.
Here are some eco-friendly tips that you can use while tackling those "around the house" tasks:
Hang dry laundry:

why stop at using green laundry detergent? Stay green every step of the laundry process! When weather permits, hang dry your clothes outside on a clothesline. Some companies even make retractable clotheslines, that disappear when your not using them! As a bonus, they will smell like a clean breeze, and not the fake kind.

Houseplants:

The most efficient air filters are not actually man made, they are plants! Some of the most efficient plants include Spider plants, English ivy, rubber plants and peace lilies. For an average sized home (1,800 sq. feet) you will need 15 to 18 medium sized plants.

De-Clutter:

To help de-clutter your life and help a good cause, donate your clothes to charity! You can also use any torn or stained clothes can be cut up and used as rags, and this will help replace paper towels. When putting away winter clothes, instead of using moth balls- use cinnamon sticks, bay leaves and cloves in a sock! It will leave your clothes smelling like the fall and winter!

Repainting:

If you decide to repaint your walls, take a look at the VOC content of your favorite color. VOC's (Volatile Organic Compounds) are chemicals that form vapors at room temperature (eek!) VOC's that are found in many paints contribute to smog and indoor air pollution, and can cause a slew of short and long term health problems. For eco-safe and VOC free paints check out these brands: Eco-Spec, by Benjamin Moore; Clarity, by Dutch Boy; Enviro-Pure, by MAB Paint; American Pride Paint; and BioShield Milk Paint.

Sink That Swiffer:

Instead of having to keep buying single use mop pads, invest in a reusable mop. Casabella is a reputable brand that can detach the mop head and be washed in the washing machine, hung out to dry and used over and over.

Lose The Paper Towels:

Instead of buying more paper towels that get thrown out and end up in a landfill, use what you have. Use an old shirt cut into smaller pieces as rags, that can just get thrown into the washing machine and used over and over.
Happy Spring Cleaning!
Thank you to Liza Barnes from SparkPeople for the original information.
_____________________________________
To learn more about Van Dyke Home Improvements' services, business practices and references, click on About Us. You can read customer reviews on our Testmonials page. Be sure to look at our Carpentry Photos and Remodeling Photos that feature many "before and after" photos of our recent projects.
Contact Us
For more information, or to request a quote or discuss a project you are considering, please call 631-859-0405, or email [email protected].