Home | Home Improvement Tips | Buying Moulding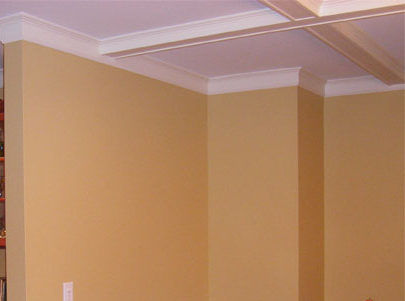 Moulding is a great way to hide small imperfections whilst complementing the style of a room. There are three different styles that can suit your decor needs. However, your options are limitless. Here is a handy list on how to choose what type of moulding you need, and how to go about buying it.
Determine Where It Will Go:
Before jumping into the project, look around and assess the area. Decide what style fits the room. You can purchase sample pieces called "profiles" to have examples to help you through the process. Why stick with just one? You can always build up layers to get an artistic look or to make the room look bigger.
Identify where you want to put the moulding that could compliment the room. For example, you may not need it where the ceiling and wall meet perfectly- but it will add that decorative touch.
Identify where your home gets worn out the most. Chair rail and outside corner pieces protect walls from bumps and scrapes. This is beneficial in the long run because it is easier to replace a few pieces rather then an entire wall.
Identify places that could benefit from having moulding. Window and door casings serve as frames, while still hiding seams where jambs and walls meet.
When shopping, browse by application. This will make it easier to find profiles grouped together (for a ceiling, wall, floor, general purpose, or window). If you don't succeed at finding what you want, be adventurous and mix and match different pieces together!
Types of Moulding:
Traditional Moulding

Unfinished Solid Wood
Medium Density Fiberboard (MDF)
Pre-finished
Traditional Moulding is commonly used inside homes. Especially unfinished, which can be made from pine or hardwood. It is milled to match almost any decorating style. Unfinished pieces come in two grades: stain-grade and paint-grade. Stain-grade is made from clear lumber, so it accepts any stain put on. Paint-grade is made from shorter pieces of pine finger, and comes pre-primed and ready to paint. Medium Density Fiberboard is a lightweight wood product that is less susceptible to humidity and temperature then regular wood, and also comes pre-primed. Pre-finished moulding is made from polystyrene and comes is different wood patterns at a lower price than regular wood. It is low cost and has easy installation, making this version an economical alternative to the traditional wood moulding.
Decorative Hardwood Moulding
Architectural Moulding
Decorative Moulding is ready for staining, clear coating or even painting. Decorative hardwood comes in many different patterns, sizes and profiles. The embossing on the wood creates the appearance of hand-carved moulding, with a sense of style and warmth. Architectural moulding is a premium, polystyrene or polyurethane version that has large profiles that mimic the look of built up moulding. It does not warp, rot, or split (bonus!) It is low maintenance that works like regular old wood. It is much lighter and easier to install. It can be painted or stained to match the interior decor.
PVC is the best choice for exterior trim. Anything can be done to it like regular wood. Unlike regular wood, it doesn't split or warp. It is impervious to insect damage, rot and even decay!
Thank you to Lowe's for the original information.
---
_____________________________________
To learn more about Van Dyke Home Improvements' services, business practices and references, click on About Us. You can read customer reviews on our Testmonials page. Be sure to look at our Carpentry Photos and Remodeling Photos that feature many "before and after" photos of our recent projects.
Contact Us
For more information, or to request a quote or discuss a project you are considering, please call 631-859-0405, or email [email protected].